Flexi Fit Cap
This cap has a sturdy body, a curved visor, and a silver underside. Design by Funk My Racket.
Ships worldwide within 3 days. Allow up to 14 days for delivery
63% polyester, 34% cotton, 3% spandex twill.
Structured, 6-panel, mid-profile (with a low-profile embroidery area).
Stretch band.
6 embroidered eyelets.
Silver undervisor.
Head circumference: 22"–23⅞" (55.9 cm–60.6 cm).
Sizes
Measure your head circumference with a non-stretchable measuring tape.
Place the end of your tape on your forehead and wrap the rest around the back of your head, keeping it 1″ (2.5 cm) above your ears.
Pinch the spot where the tape meets the other end, lift the loop over your head, and note the measurement.
Be as careful as possible to get the most precise measurement.​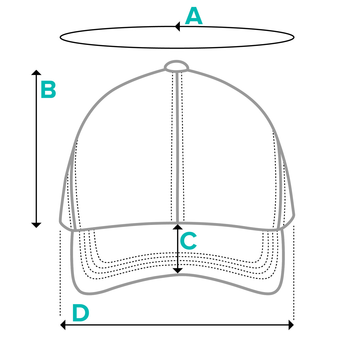 Inches
| Size label | A | B | C | D |
| --- | --- | --- | --- | --- |
| S/M | 21 ¼ - 22 ¾ | 4 ½ | 2 ½ | 6 ⅝ |
| L/XL | 22 ⅜ - 23 ⅞ | 4 ⅞ | 2 ½ | 6 ⅝ |
Centimeters
| Size label | A | B | C | D |
| --- | --- | --- | --- | --- |
| S/M | 54 - 57.8 | 11.5 | 6.5 | 16.8 |
| L/XL | 56.8 - 60.6 | 12.4 | 6.5 | 16.8 |